Why TIP?
Production establishment in 2 months in existing premises and in 6 months in newly build premises.
Effective and highly motivated labour force. Example: One of the currently operating companies which are located in TIP has reached 2.5 times better production efficiency than it had reached in the Western Europe before relocation of the production plant.
Average monthly salary is up to 30% lower than in bigger towns (Vilnius, Kaunas, and Klaipėda).
More than 2000 potential employees are looking for a job at the moment.
Competitive rent and sale prices.
Special financing through the local Labour Exchange Office: subsidies for creating working places, subsidies for salaries, subsidies for a personnel training.
Heating power costs are among the cheapest in Lithuania.
The EU funding period for 2014-2020 is currently under development. Taurage County has been chosen as the target region while implementing EU support.
Taurage region is turning green. The quantity of the produced green energy (biomass, wind power, hydro energy, and solar systems) in the region is greater than consumed in Taurage.
Why Lithuania?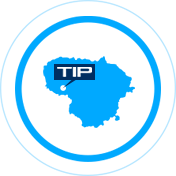 22nd freest economy in the World
More facts
References

At Ansell Protective Solutions Lithuania, we continue to operate